Jared Montano, DDS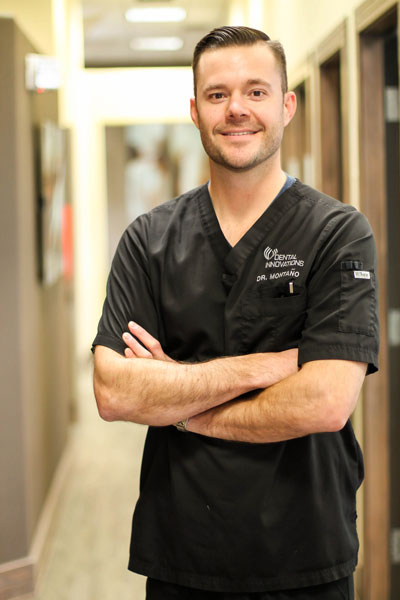 Owner of Dental Innovations
Dr. Jared Montano was born and raised in Gallup and is now glad to be able to contribute to the community that has given him so much growing up. He graduated with honors from both Gallup High School and New Mexico State University. Outside of the office, Dr. Montano enjoys spending time with his wonderful wife, Erin, and working on his family ranch.
Dr. Montano attained his Doctor of Dental Surgery from the University of Missouri–Kansas City School of Dentistry and joined Dental Innovations in June of 2012. Dr. Montano is a member of the American Dental Association®, the New Mexico Dental Association and the Academy of General Dentistry.
Dr. Montano enjoys spending time with his wonderful wife and his two young daughters, Margot and Daphne.
Randy Simonsen, DDS, Orthodontist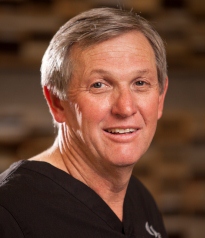 In addition to general dentistry, Dental Innovations has Gallup, New Mexico, orthodontist Dr. Randy Simonsen. A native of Richfield, Utah, Dr. Simonsen completed his undergraduate studies at Utah State University, earning a degree in biology. He then attended dental school at Case Western Reserve University in Cleveland, Ohio, where he graduated in the top 10 percent of his class. Since 1980, he has been a practicing orthodontist in St. George, Utah. Randy's orthodontic training was completed at the University of Rochester, Eastman Dental Center.
As an orthodontist, Dr. Simonsen specializes in preventive orthodontics and early treatment (before a patient has all their permanent teeth). He is also a member of the American Association of Orthodontists and the Rocky Mountain Society of Orthodontists.
Orthodontics is a business for people, and Dr. Simonsen takes pride in paying particular attention to the needs of each individual patient, as well as giving a great value for a fair price. He also offers weekend appointments.
Now in his 40th year of marriage, Dr. Simonsen has seven children and 13 grandchildren. Outside of dentistry, he enjoys spending time on his ranch in northern Utah and being active in local church and community projects.
Erin Montano, DDS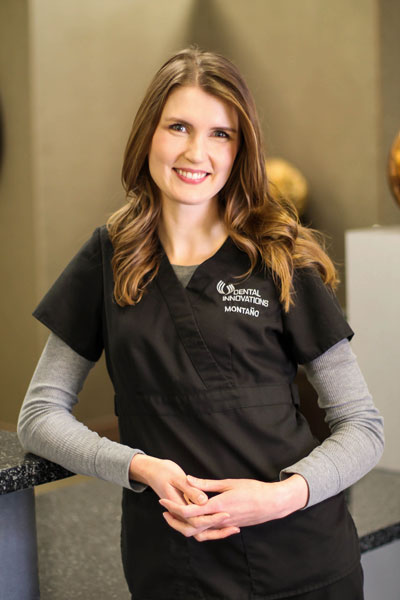 As newest addition to Dental Innovations, Dr. Erin Montano is excited to contribute her services as a general dentist and provider of BOTOX® and cosmetic dental treatments. Originally from St. Louis, Missouri, Dr. Erin graduated summa cum laude from Saint Louis University with a major in studio art and biology and went on to receive her dental degree from the University of Missouri–Kansas City School of Dentistry where she met her wonderful husband, Dr. Jared Montano. She is a current member of the New Mexico Dental Association, the American Dental Association and the Academy of General Dentistry.
For Dr. Erin, dentistry is a way to restore a patient's confidence not only in themselves but also in the field itself, through active listening and implementation of the newest products and technologies. She enjoys working with kids of all ages, special needs patients and those with dental fears and anxiety.
In addition to her love of treating patients, Dr. Erin enjoys spending time with family and friends, painting in her studio, watching Cardinals baseball and learning the "ins and outs" of her husband's family cattle ranch.
Meet Our Team
Our team members are the best! They are here to support our dentists and our patients. They have years of experience and are friendly and genuinely concerned with you and your dental health. They help create a no-pressure atmosphere where you will feel comfortable about your treatment. Our team members also speak English, Spanish, Zuni and Navajo to meet the needs of everyone in our community. If you would like to learn more, contact us at (505) 863-4457 today!